Kanagawa, Japan, October 4, 2022 ― Nextorage Corporation today announced its G Series microSDXC UHS-I memory cards, in both 256 GB and 128 GB (NM1A256 and NM1A128) available on amazon USA. The G series is started as Nextorage's new specialty product line for gamers; its microSDXC cards delivering optimal transfer speed[1] in popular handheld gaming devices, and durability, offer less-stress and reliable gaming experience.
G Series + Adapter|microSDXC UHS-I U3 V30 A2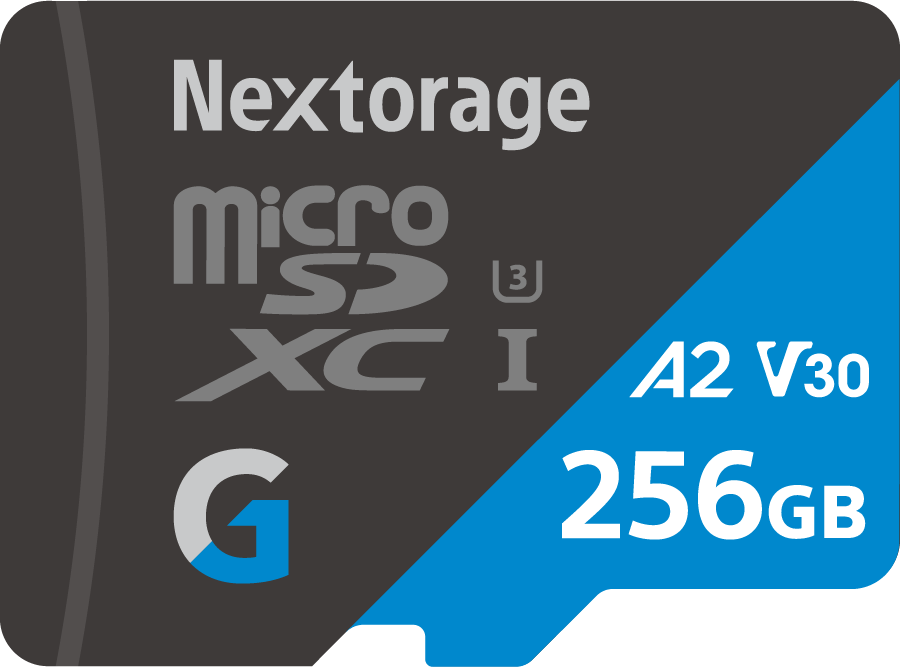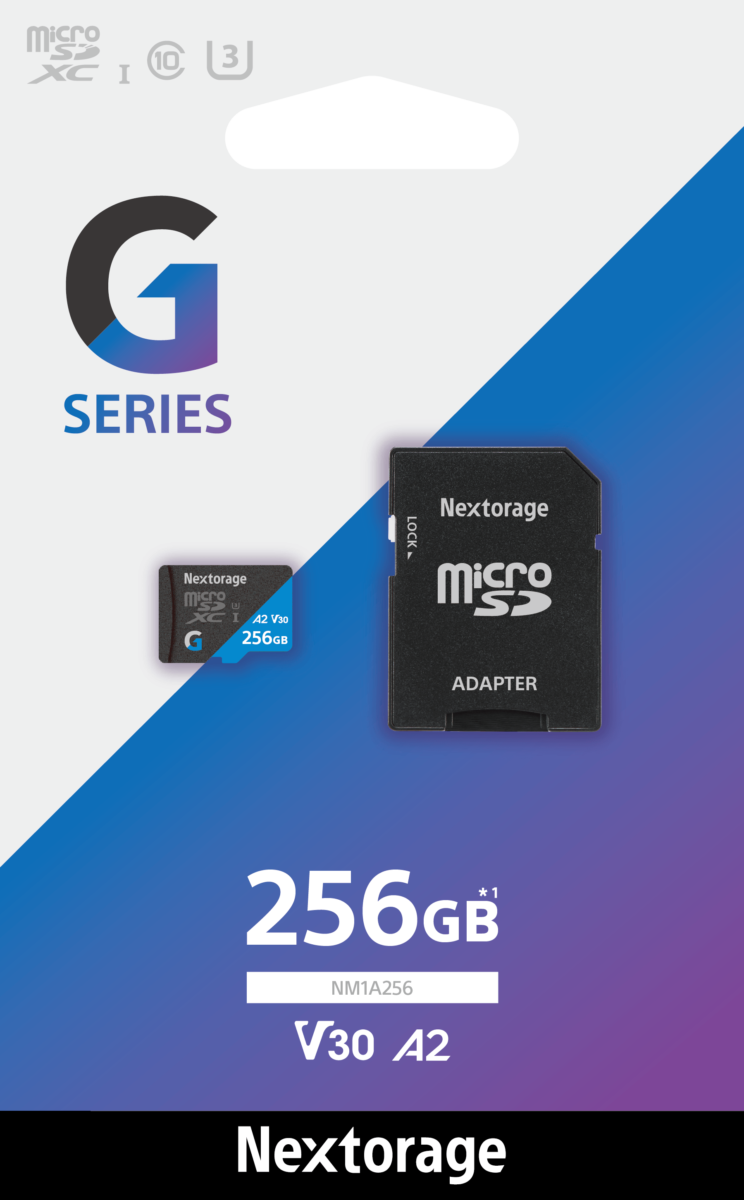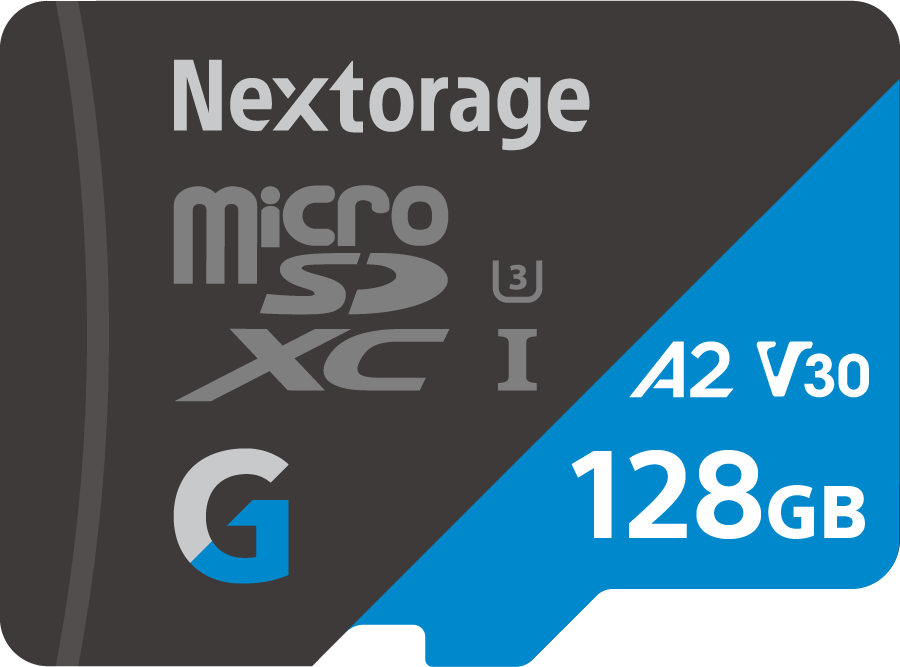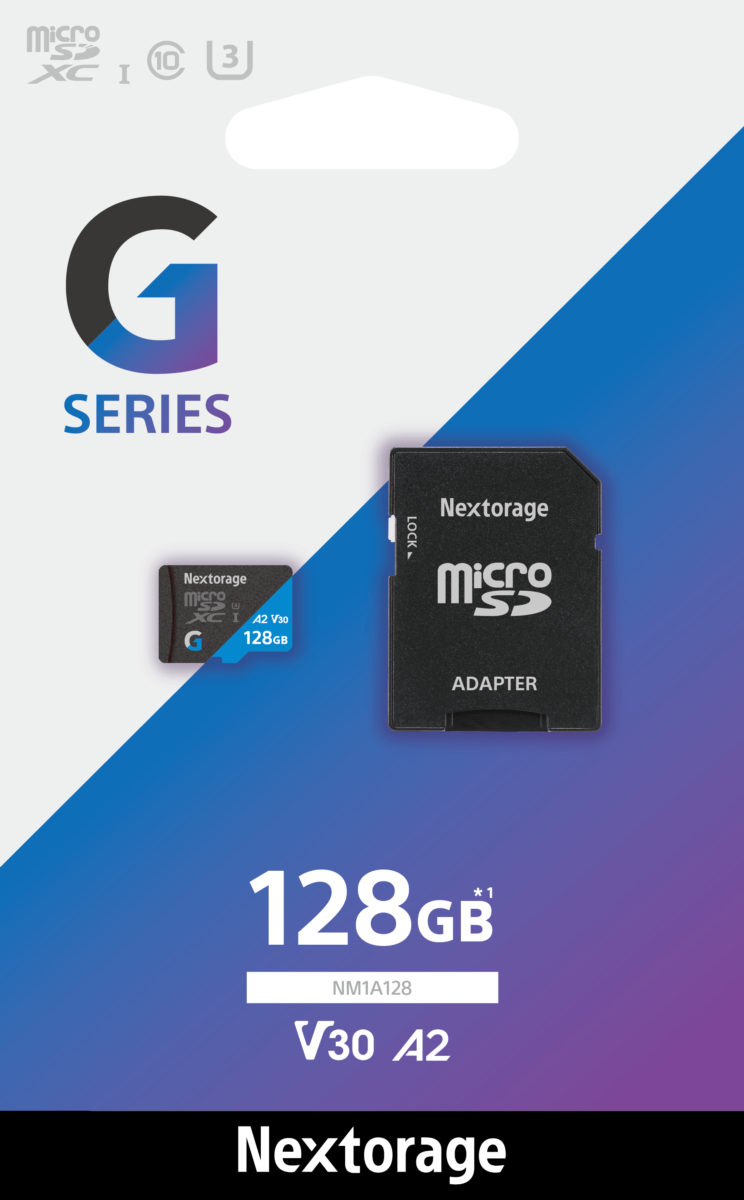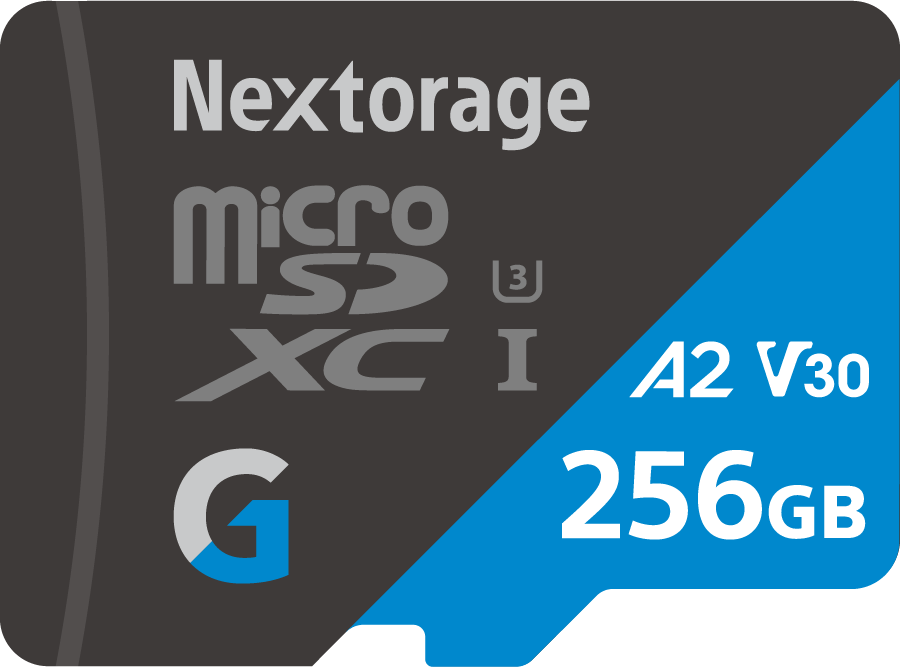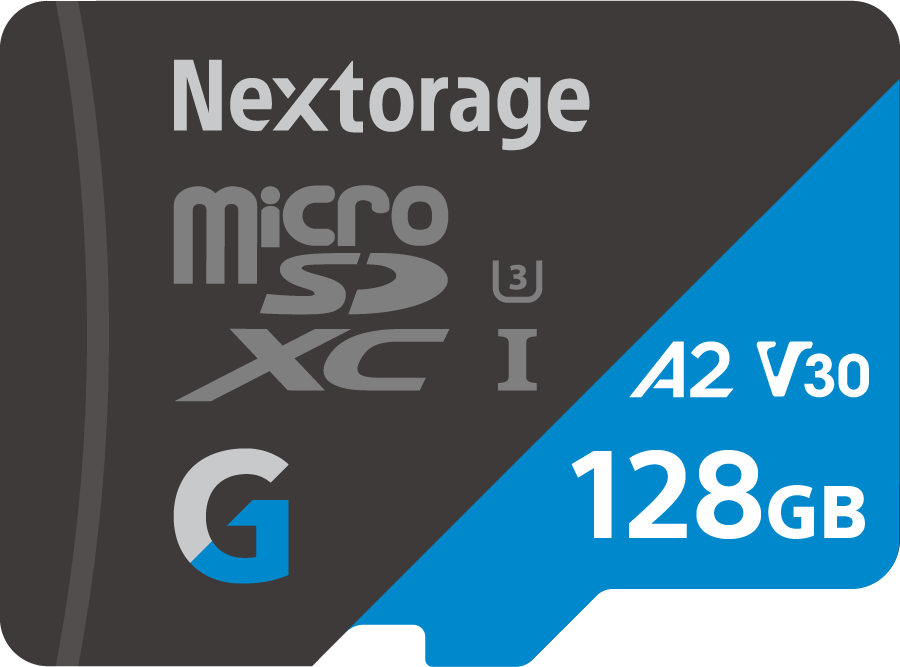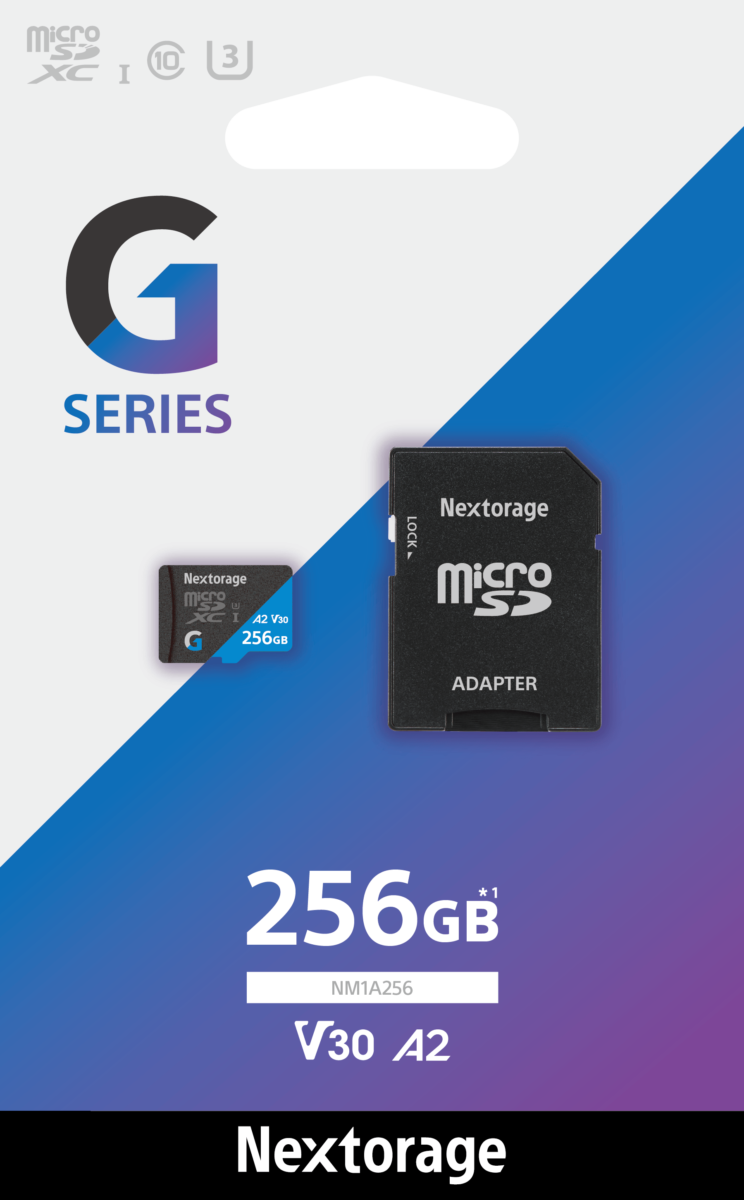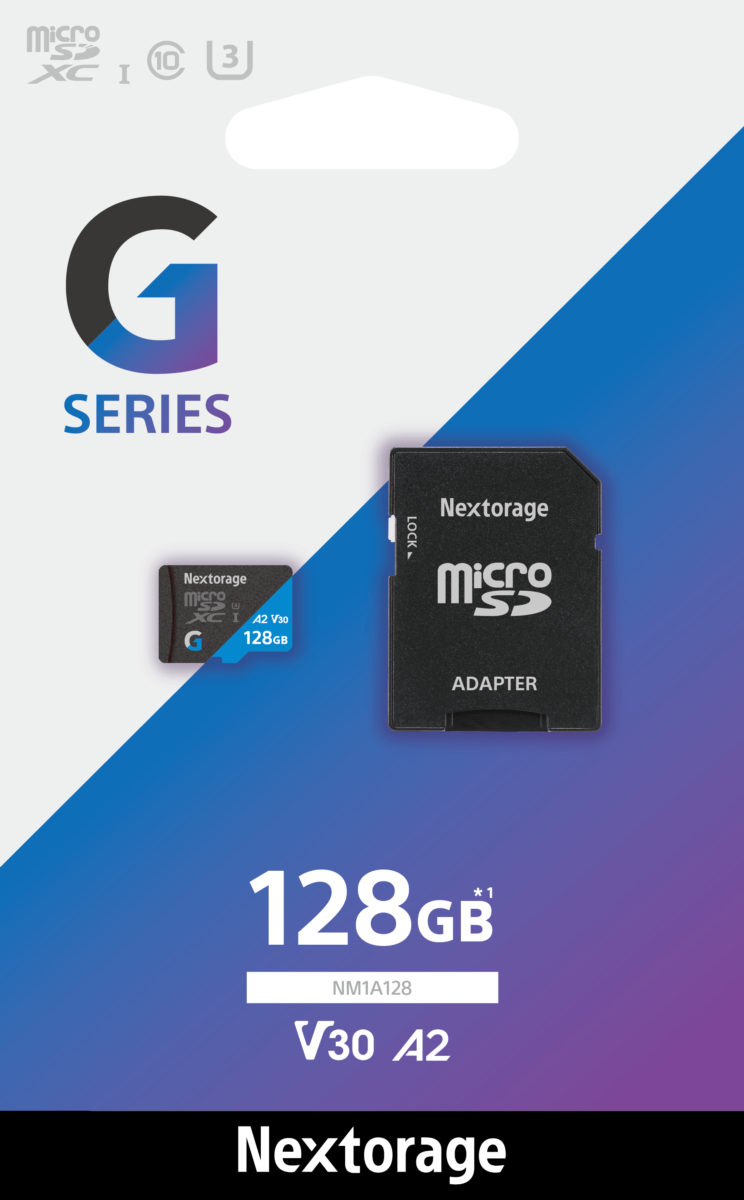 ---
Ideal for handheld gaming devices
The G Series SDXC UHS-I memory cards support UHS-I, U3, which provide up to 100 MB/s[1] read speed and up to 90 MB/s[1] write speed for smooth data loading with handheld gaming devices, smartphones, tablets, and other portable UHS-I devices.
A2 App performance
The application performance class A2 rated (minimum random read 4,000 IOPS / write 2,000 IOPS) gives you fast launching and efficient executing of Android™ apps.
Best performance in UHS-I devices
The G Series microSDXC UHS-I memory cards can be also used for photo/videography. Supporting Video Speed Class 30 (V30), perform best in high-resolution photo shooting and 4K/FHD video recording[2] with UHS-I compatible handheld cameras, drones, and other devices. The SD adapter compatible with DSLR cameras, PCs, and other SDXC-compatible devices comes with the package.
Exterior durability & 5-year limited warranty[3]
The G Series SDXC UHS-I memory cards are tested[4] in 10 types of durability: IPX7 waterproof, IP5X dustproof, shock resistance, bending resistance, 10,000 times of wearing-out , temperature resistance, X-ray & UV resistance, static electricity resistance, and anti-magnetic. These durable memory cards protect your important data from harsh external environments, with a 5-year limited warranty[3].
Data recovery software: Memory Card File Rescue[5]
The G Series microSDXC UHS-I memory cards also come bundled with Nextorage's Memory Card File Rescue[5] app to recover lost data accidentally deleted.
Availability
Specifications:
Product name
G Series
Model
NM1A256
NM1A128
Capacity[6]
256 GB
128 GB
Interface
UHS-I
SD speed class
Class10
UHS speed class
U3
Video speed class
V30
Application performance class
A2
Max.Sequential Read[1]
100 MB
100 MB
Max.Sequential Write[1]
90 MB
80 MB
Exterior durability[4]
Water: IPX7, Dust: IP5X
Shock: 4.9 ft (1.5 m) drop, Bend: 10N bend
Wearing-out: 10,000+ times
X-ray & UV: ISO7816-1 compliant
Static electricity resistance: IEC61000-4-2 compliant
Storage temperature range: -25℃ to 85℃/-13℉ to 185℉ (no condensing)
Anti-magnetic: tested attached the card on 2,500 gauss magnet for 70 hours

Operating voltage
2.7 V to 3.6 V
Dimension (W × L × D)
11 mm × 15 mm × 1 mm
(7/16 in. x 19/32 in. x 1/16 in.)
Mass
Approx. 1 g
Included items
SD adapter, Instruction manual, Hard case
Software
Memory Card File Rescue[5]
Warranty[3]
5 years
Learn more about the G Series microSDXC UHS-I memory card:
---
Notes:
[1] The maximum performance in the text represents the performance of NM1A256. Not includes the performance using in the SD conversion adapter. The actual performance may vary with host devices and environments. For devices that don't support UHS-I, the transmission speed will be different due to interface limitations.
[2] The specifications required for 4K video recording may vary depending on the device. Be sure to check your host device spec before use.
[3] SD adapter is not covered by the warranty.
[4] Durability is the result of testing under Nextorage's test conditions. Product damage and data corruption are not guaranteed in all situations. The SD conversion adapter is not included in this test.
[5] Does not support data recovery for content protected and game data files. Not all data may be recoverable.
[6] 1 GB = 1 billion bytes. The actual usable capacity (user area) is smaller than the indicated capacity due to its use for system area.
Design and specifications are subject to change without notice.
microSD and microSDXC logos are trademarks of SD-3C, LLC.
---
To request media materials or inquire about this press release, contact us