B1 Pro Series – max read 1,950 MB/s[2], max write 1,900 MB/s[2], VPG400, 165 GB to 1,330 GB capacity options plus low-power consumption system: for stable and reliable video recording
B1 SE Series – max read 1,950 MB/s[2], max write 1,100 MB/s[2], 128 GB and 256 GB: for still shooting
Durability for harsh environment & 5-year limited warranty
Kanagawa, Japan, November 16, 2022 ― Nextorage Corporation today announced its CFexpress Type B cards: B1 Pro Series and B1 SE Series, supporting PCIe®3.0 × 2, NVMe 1.4 interface.
As today's camera performance evolves and recording quality continues to improve, Nextorage expands its product portfolio with these B1 Pro/B1 SE series to offer a wide range of capacity and performance options for professional imaging, meeting the demand for recording video and still images at the highest image quality.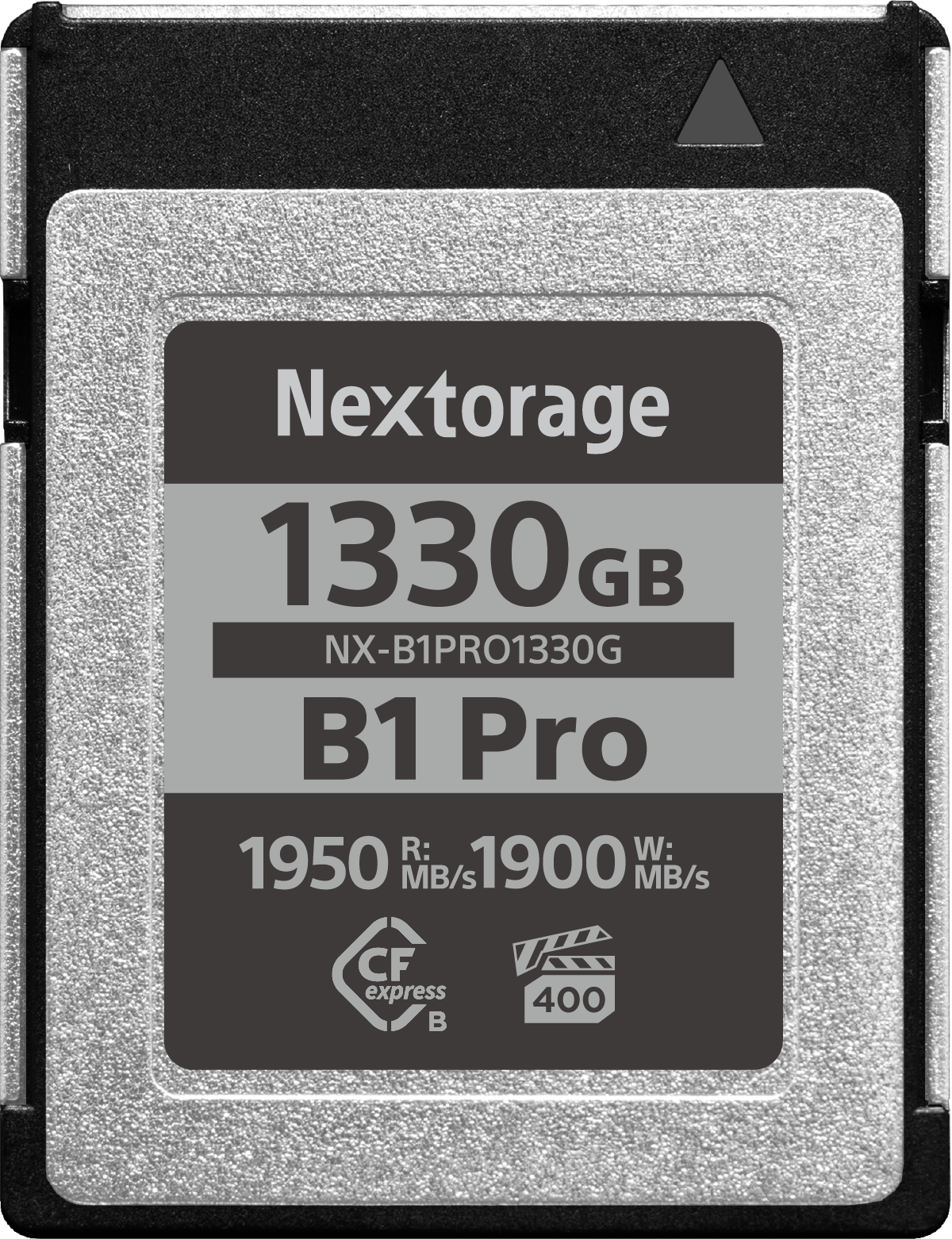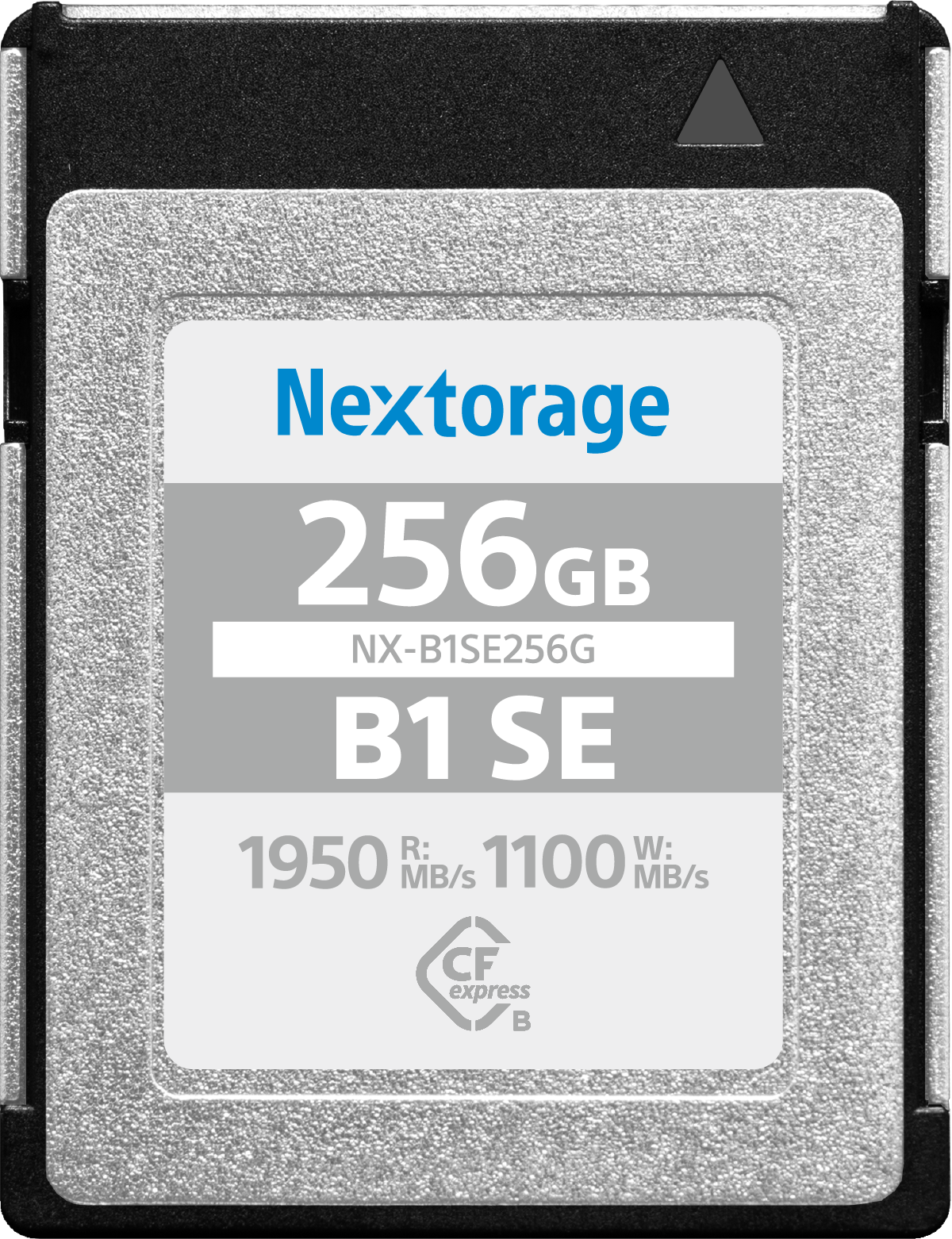 Descriptions
B1 Pro Series (NX-B1PRO) – Achieves the world's fastest[1] read speed of up to 1,950 MB/s[2], write speed of up to 1,900 MB/s[2] and a minimum sustained write speed of 1,800 MB/s[2] supporting VPG400 (guaranteed minimum sustained write speed of 400 MB/s) for all capacities ranging from 165 GB to 1,330 GB: ideal for high-speed continuous shooting of RAW images as well as 8K video recording at higher bit rates without dropping frames with the latest high-performance mirrorless cameras.
The B1 Pro Series CFexpress Type B card is equipped with "Dynamic Auto Power Save," a unique system developed by Nextorage for low-power consumption during video recording. The B1 Pro series offers up to 68 %[2] power savings compared to non-equipped pSLC CFexpress cards. This system not only saves the camera's battery life, but also prevents thermal throttling* from triggering by reducing the temperature rise of the card. This interaction contributes to maintaining sustained write speed during high-speed writing in video recording. (*Thermal throttling: a control function that suppresses the transfer speed to prevent thermal runaway)
B1 SE Series (NX-B1SE) – Primarily for high-resolution still photography, this series comes in 128 GB and 256 GB capacities. Thanks to the world's fastest[1] read speed of up to 1,950 MB/s[2](up to 1,100 MB/s[2] for 128 GB) write speed of up to 1,100 MB/s[2] (up to 550 MB/s[2] for 128 GB) and minimum sustained write speed of 200 MB/s[2](at least 100 MB/s[2] for 128 GB), photographers can greatly streamline their workflow from shooting, backup, editing, and sharing.
Both the B1 Pro and B1 SE series are durability tested in an environment compliant with CompactFlash Association regulations:
Temperature resistance: -10 ℃ to 70 ℃ / 14 ℉ to 158 ℉(Operating temperature)
Shock resistance (EIA-364-27A compliant)
X-ray resistance (ISO7816-1 compliant)
UV resistance (ISO7816-1 compliant)
Magnetic resistance (based on Nextorage internal testing)
Anti-Static (certified to IEC 61000-4-2 standard)
Nextorage is currently testing the compatibility of the B1 Pro/B1 SE Series with CFexpress Type B memory card compatible devices and has confirmed recording operation with the Canon EOS R3, EOS R5, EOS R5C and Nikon Z9. Information on other compatible devices will be updated on the Nextorage website as it becomes available.
Nextorage B1 Pro Series/B1 SE Series CFexpress Type B memory cards will be available on Amazon from late December 2022. See below for suggested retail pricing:
NX-B1PRO ― $199.99 USD (165 GB) / $399.99 USD (330 GB) / $799.99 USD (660 GB) / $1599.99 USD (1330 GB)
NX-B1SE ― $99.99 USD (128 GB) / $139.99 USD (256 GB)
Specifications
Min. Sustained Write speed[2]
Min. sustained Write speed[2]
Learn more about the B1 Series CFexpress Type B Cards:
---
Notes:
[1] As of November 2022, Nextorage Survey
[2] Based on Nextorage test conditions. Actual performance may vary and are dependent on environmental and usage.
[3] 1 GB = 1 billion bytes. The actual usable capacity (user area) is smaller than the indicated capacity due to its use for system area.
Design, specifications, and prices are subject to change without notice
CFexpress is a trademark of the CompactFlash Association
NVMe is a trademark of NVM Express, Inc
PCle is trademarks of PCI-SIG
Other system names and product names are generally registered trademarks or trademarks of each manufacturer
---
To request media materials or inquire about this press release, contact us