Kanagawa, Japan, March 3rd, 2023 ― Nextorage Corporation today announced that Nextorage CFexpress™ Type B memory cards NX-B1PRO1330G and NX-B1PRO660G are approved for RED Digital Cinema, LLC. We are pleased to announce that we have obtained certification for the cameras V-RAPTOR XL and V-RAPTOR.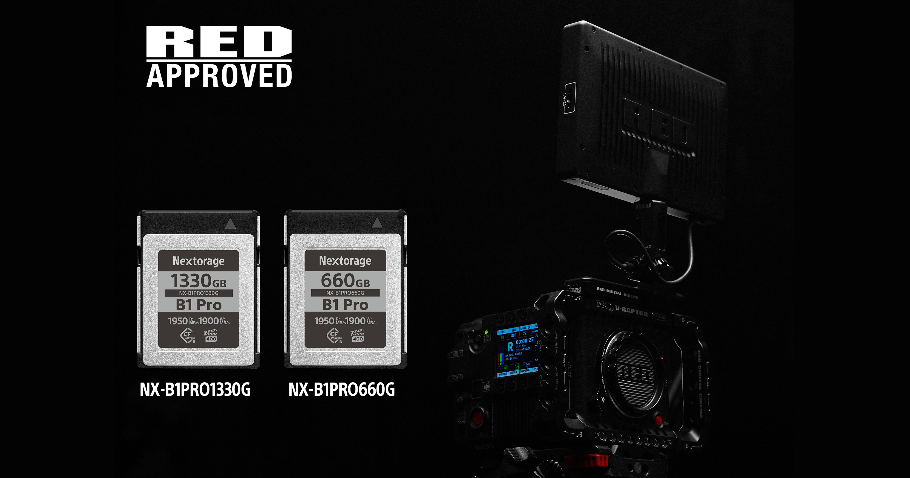 he NX-B1PRO1330G and NX-B1PRO660G meet the highest level of specifications required by RED Digital Cinema's V-RAPTOR XL and V-RAPTOR cameras and can record stably without causing any problems. It is a confirmed product certified by RED Digital Cinema.
NX-B1PRO1330G and NX-B1PRO660G are compatible with V-RAPTOR XL firmware Ver.1.4.4 and V-RAPTOR firmware Ver.1.4.4.
Specifications
Model
NX-B1PRO1330G
NX-B1PRO660G
Capacity [3]
1,330 GB
660 GB
Interface
PCIe® Gen3.0 × 2, NVMe1.4
NAND Flash
pSLC
Max. Read speed [1]
1,950 MB/s
Max. Write speed [1]
1,900 MB/s
Min. Sustained speed (Write) [1]
1,800 MB/s
VPG400
Support
Durability [2]

Operating Temperature resistance: 14 ℉ to 158 ℉ (-10 ℃ to 70 ℃)
Shock resistance: EIA-364-27A compliant
X-ray resistance: ISO7816-1 compliant
UV resistance: ISO7816-1 compliant
Magnetic resistance: Based on Nextorage internal testing

Software
Memory Card File Rescue
Warranty
5 years
Learn more about the B1 Series CFexpress Type B Cards:
---
Notes:
[1] Based on Nextorage test conditions. Actual performance may vary and are dependent on environmental and usage.
[2] Durability is the result of testing under Nextorage's test conditions. Product damage and data corruption are not guaranteed in all circumstances. The SD conversion adapter is not included in this test.
[3] Capacity is based on 1 GB = 1 billion bytes. A portion of the memory is used for system files and may vary.
Design and specifications are subject to change without notice.
The VPG logo and CFexpress is a trademark of the CompactFlash Association.
PCle is trademarks of PCI-SIG.
NVMe is a trademark of NVM Express, Inc.
Other system names and product names are generally registered trademarks or trademarks of each manufacturer.
---
To request media materials or inquire about this press release, contact us