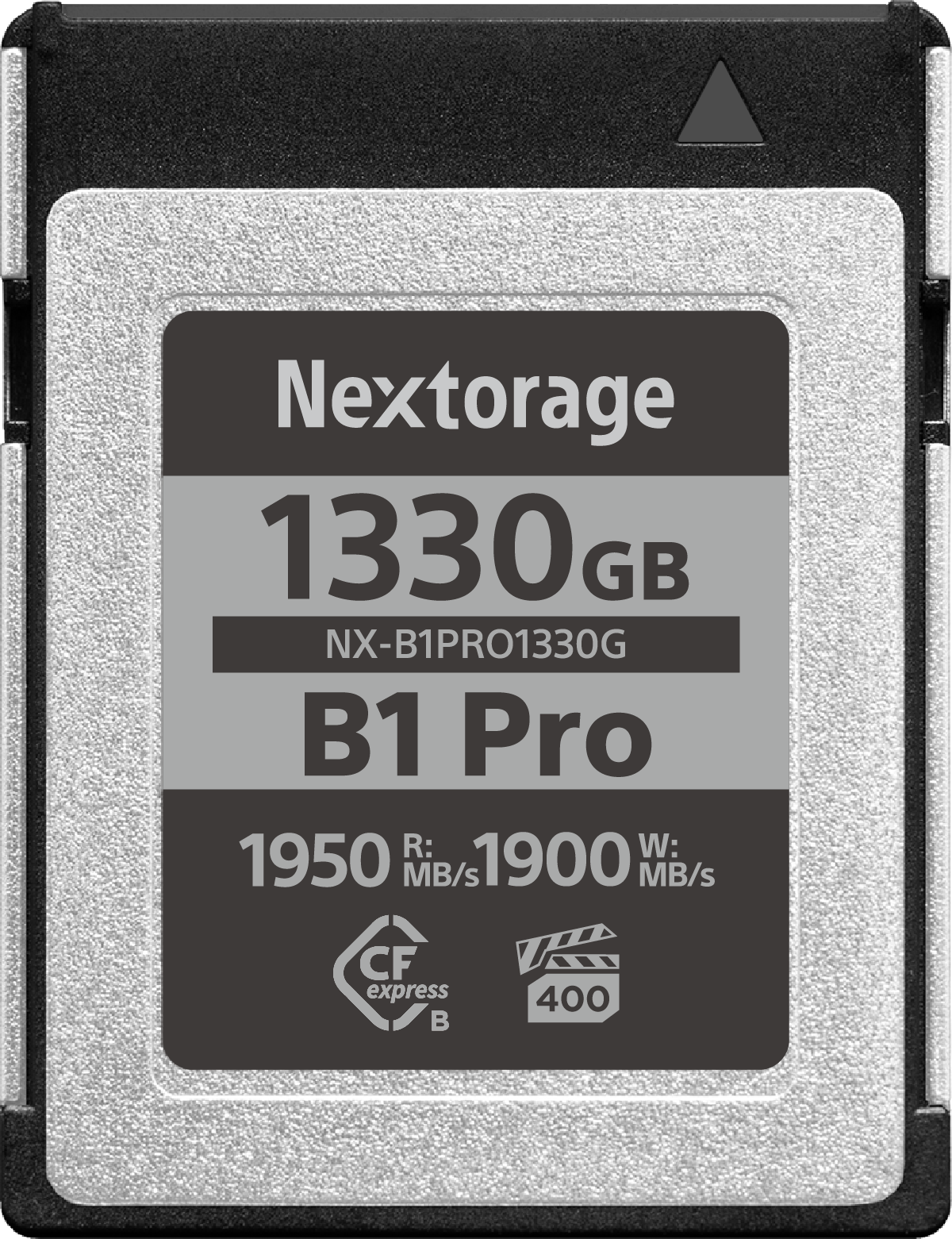 NX-B1PRO Series|CFexpress™ Type B Memory Card VPG400
165 GB / 330 GB / 660 GB / 1,330 GB
ON to the
Next LEVEL
videography
Nextorage NX-B1PRO Series PCIe® 3.0 NVMe 1.4 CFexpress Type B memory card enables optimization for professional filmmaking and maximizes the potential of the latest cameras while it maintains the quality of the image as well as stability of its performance.
EXTREME 8K RECORDING
Max Read 1950 MB/s

1


Max Write 1900 MB/s

1
Nextorage NX-B1PRO Series provides read speed of up to 1,950 MB/s1 : near-max theoretical speed of CFexpress Type B, writing speed up to 1,900 MB/s1 for faster buffer clearance and RAW/8K video recording at high bitrates.
Min Sustained Write 1800 MB/s1
A minimum sustained write speed of 1,800 MB/s1 supporting VPG400 (guaranteed minimum sustained write speed of 400 MB/s) for all capacities ranging from 165 GB to 1,330 GB: ideal for high-speed continuous shooting of RAW images as well as 8K video recording at higher bit rates without dropping frames with the latest high-performance mirrorless cameras.
Dynamic Auto Power Save
The NX-B1PRO Series CFexpress Type B card is equipped with Nextorage's Dynamic Auto Power Save, a power saving system that reduces 68 %1 power consumption in video recording compared to non-equipped pSLC CFexpress cards ― contributes not only to saving the camera's battery life, but to maintaining sustained write speed by preventing thermal throttling*.
*Thermal throttling: a control function that suppresses the transfer speed to prevent thermal runaway
DuRABILITY TESTED
Exterior durability is tested in an environment compliant with CompactFlash Association regulations:
Compatibility
Nextorage is testing the operation in various recording modes with the latest high-end cameras. See below for the latest compatibility information:
MEMORY CARD FILE RESCUE
Sometimes, things can go wrong and you might accidentally delete files or photos. Nextorage's easy-to-use tool, Memory Card File Rescue app, recovers your precious data. Available as free download for Nextorage memory card owners.
Does not support data recovery for content protected and game data files. Not all data may be recoverable.

5-YEAR LIMITED WARRANTY
Warranty and product support valid for 5 years from the purchase date
Model / Capacity*

NX-B1PRO165G / 165 GB
NX-B1PRO330G / 330 GB
NX-B1PRO660G / 660 GB
NX-B1PRO1330G / 1,330 GB

* 1 GB = 1 billion bytes. The actual usable capacity (user area) is smaller than the indicated capacity due to its use for system area.

Max. Sequential speed (Read)1

Max. Sequential speed (Write)1

Min. Sustained speed (Write)1

Operating environment

14 ℉ to 158 ℉ (-10 ℃ to 70 ℃)

Storage environment

-40 ℉ to 185 ℉ (-40 ℃ to 85 ℃)

Dimensions (W×L×T)

Approx. 29.6 ㎜ × 38.5 ㎜ × 3.8 ㎜
(1 3/16 in. × 1 9/16 in. × 5/32 in.)

Included item

・Instruction manual & warranty

Warranty

5 years from the date of purchase
Operating Temperature resistance

14 ℉ to 158 ℉ (-10 ℃ to 70 ℃)

Magnetic resistance

Based on Nextorage internal testing

Anti-Static

Certified to IEC 61000-4-2 standard
5 Years from the date of purchase

If there is any inconvenience or trouble with the product, we will return or exchange the product. Please contact the retailer where you purchased the product or use our contact form. We also accept pre-purchase questions via our contact form below.
---
Based on Nextorage test conditions. Actual performance may vary and are dependent on environmental and usage.
Durability ratings are based on Nextorage test conditions. Product damage or data corruption is not guaranteed under all circumstances; the durability of SD conversion adapters is outside the scope of this test.
Design and specifications are subject to change without notice.
The VPG logo and CFexpress is a trademark of the CompactFlash Association.
PCle is trademarks of PCI-SIG.
NVMe is a trademark of NVM Express, Inc.
Other system names and product names are generally registered trademarks or trademarks of each manufacturer