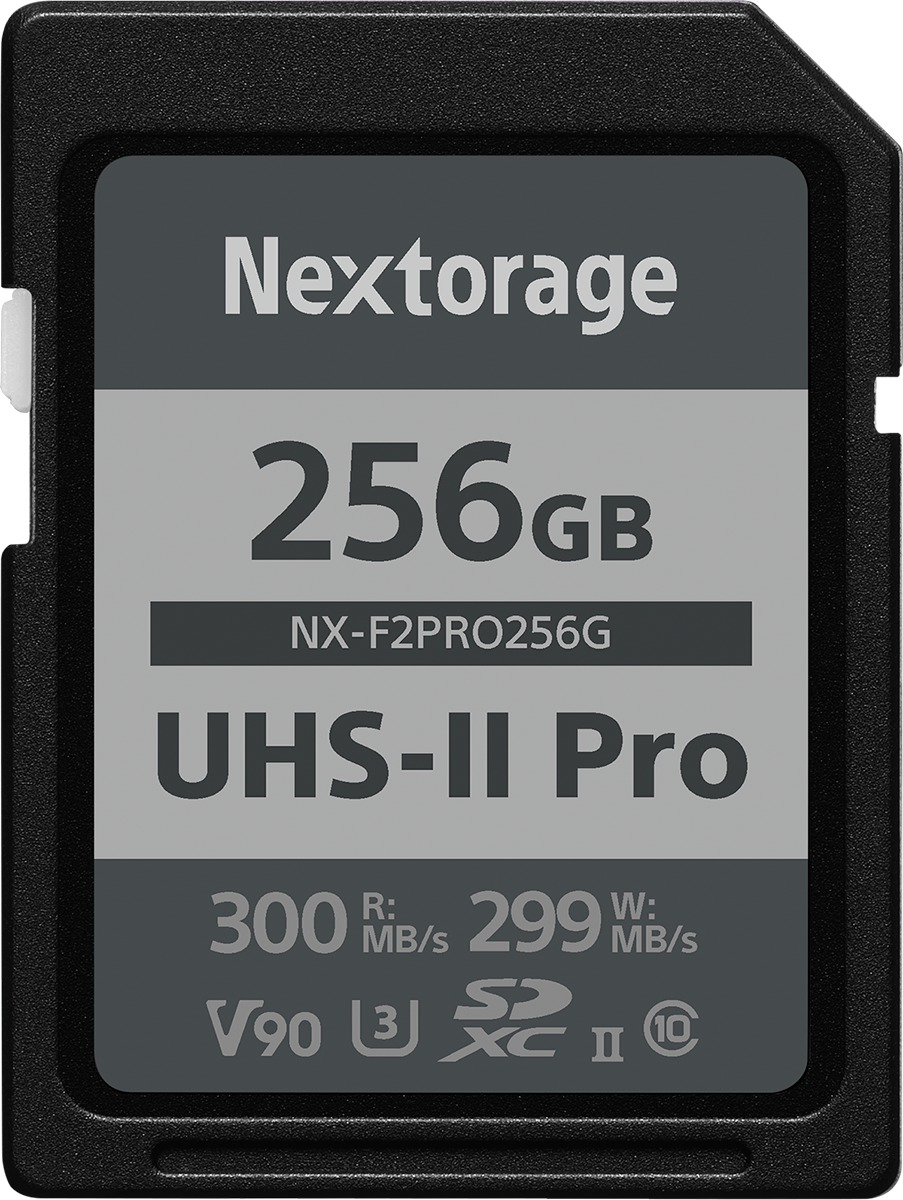 NX-F2PRO Series|SDXC UHS-II U3 V90 Memory Card
High Performance SDXC UHS-II
Memory Card
NX-F2PRO Series is for videographers and photographers who require both the convenience of SD memory cards and high levels of write/read speed.
These cards offer superior performance for 8K video recording1 and high-speed continuous shooting, and maximize the shooting performance of UHS-II compatible devices.
Close to the highest UHS-II standard
Max Read 300 MB/s

2


Max Write 299 MB/s

2
NX-F2PRO Series achieves a transfer speed that is almost at the upper limit of the UHS-II standard value, providing a comfortable workflow from shooting to data transfer operations after shooting.
The use of pSLC NAND memory, which is resistant to high-frequency rewrites, is highly effective in data retention and durability.
NX-F2PRO Series is compliant with V90 (guaranteed minimum transfer rate: 90 MB/s), the highest standard in the SD video speed class, so it supports 4K and 8K high-definition video recording1 and high-speed continuous shooting in RAW quality.
Supports stable 8K video recording1 with DSLR cameras, mirrorless cameras, and professional cinema cameras through high-speed data transfer.
Capture the decisive moment
High-speed writing performance reduces buffer release time (the time it takes for data writing to be completed), so you will not miss the decisive moment in continuous shooting of sports, trains, animals, etc.
The flow from continuous shooting to checking captured images can also be done smoothly with less waiting time, thus relieving the stress of waiting for writing.
DuRABILITY TESTED
NX-F2PRO Series has passed 10 types of durability tests3 to protect your important data from harsh environments.
Compatibility
Testing compatibility with the latest UHS-II memory card compatible cameras to ensure the best performance. See below for the latest compatibility information:
MEMORY CARD FILE RESCUE
Sometimes, things can go wrong and you might accidentally delete files or photos. Nextorage's easy-to-use tool, Memory Card File Rescue app, recovers your precious data. Available as free download for Nextorage memory card owners.
Does not support data recovery for content protected and game data files. Not all data may be recoverable.

5-YEAR LIMITED WARRANTY
Warranty and product support valid for 5 years from the purchase date
Model / Capacity*

NX-F2PRO256G / 256 GB
NX-F2PRO128G / 128 GB
NX-F2PRO64G / 64 GB

* Capacity is based on 1 GB = 1 billion bytes. A portion of the memory is used for system files and may vary.

Max. Sequential speed (Read)

2

Max. Sequential speed (Write)

2

Speed Class

Class 10 (SD Speed Class)
Class 3 (UHS Speed Class)
V90 (Video Speed Class)

Operating voltage

Storage temperature range

-25℃ to 85℃ / -13℉ to 185℉
(Non-condensing)

Dimensions (W × H × D)

Approx. 24 x 32 x 2.1 mm
(31/32 x 1 9/32 x 3/32 in.)

Mass

Warranty

Valid for 5 years from the purchase date
Water proof

IEC protection rating IPX7: the inside of the product will not be flooded even if it is submerged in tap water at room temperature at a depth of 5 m (16.4 ft) for 72 hours or more

Dust proof

IEC protection rating IP5X: the performance is such that no dust can penetrate at all

Shock resistance

Drop tested: height from 4.9 ft (1.5 m)

Storage temperature range

-25℃ to 85℃ / -13℉ to 185℉
(Non-condensing)

X-ray resistance

The data will not be affected by X-ray baggage inspection at airports

UV resistance

The memory card body is made of a resin that does not allow ultraviolet rays to pass through and has no effect on data

Electrostatic resistance

Compliant with IEC61000-4-2

±15kV proven for air discharge. It protects data even when used in dry seasons and environments

Anti-Magnetic

Nextorage's original anti-magnetic test: put the memory card on a strong magnet (2,500 gauss: equivalent to approx. 30,000 times the strength of the electromagnetic field emitted by a typical microwave oven) for 70 hours. That means there is no effect even if the card is close to a magnetized household appliance
---
The specifications required for 8K video recording may vary depending on the device. Be sure to check your host device spec before use.
Based on Nextorage test conditions. The actual performance may vary with host devices and environments. For devices that don't support UHS-II, the transmission speed will be different due to interface limitations.
All durability ratings are based on Nextorage test conditions. No guarantee is made that memory cards will be damage-free or that data will remain intact under all circumstances.
Design and specifications are subject to change without notice.
SDXC logos are trademarks of SD-3C, LLC.