Kanagawa, Japan, May 29, 2023 ― Nextorage Corporation announces its PCIe Gen5.0 NVMe SSD NE5N Series available on Newegg from May 29,2023.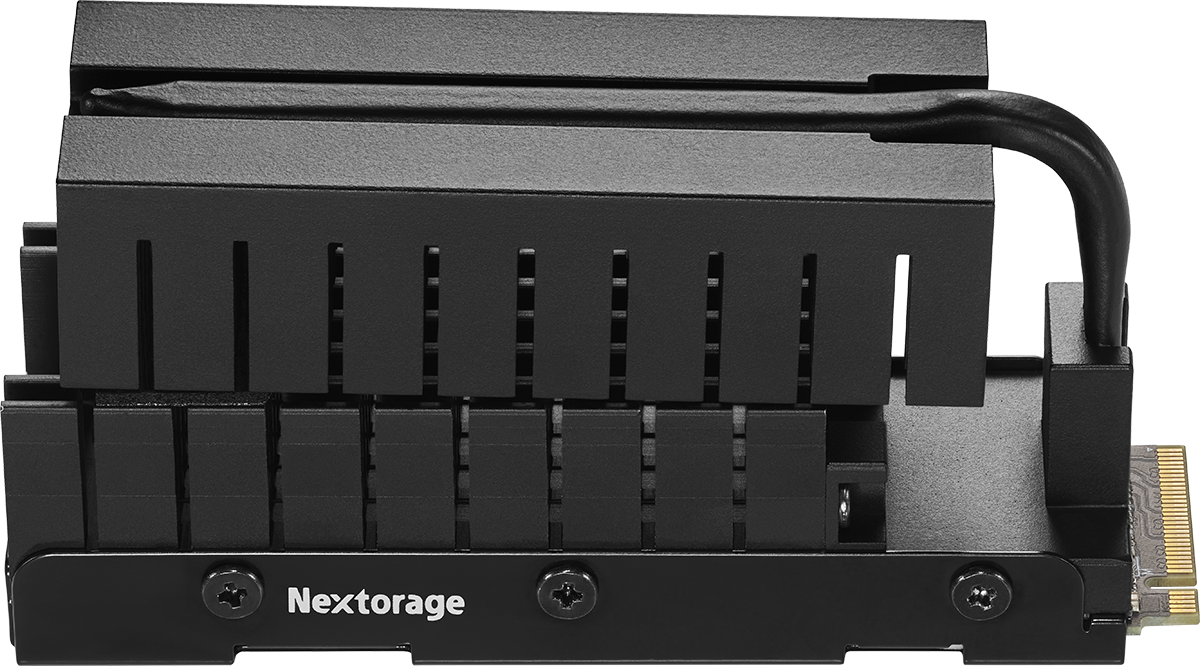 Descriptions
Max. Sequential Read 10,000 MB/s, Max. Sequential Write 10,000 MB/s[1]
Nextorage Gen5 SSD NE5N Series is equipped with high-performance controllers and advanced NAND flash, achieving overwhelming high-speed performance. It is ideal for professional use cases that require heavy processing, such as 4K/8K content creators and data scientists, as well as users who pursue high-end gaming environments. With the high-speed data access and high reliability brought by the latest technology, it will innovate your storage environment.
* The maximum performances in the text represent the performance of NE1N2TB
Dual Heatsink for optimal temperature management
The construction of stand-alone heat sink each for controller and flash bring to realization of cooling performance innovation maintaining a reliable temperature.
Space-saving design optimized for cooling efficiency
Implementation of space saved shape by innovation design of two-storied heatsink structure and heat pipe, being less likely to interfere with other devices. In addition to the design itself, it actualizes effective cooling with characteristic configuration of the heat pipe which dissipates the heat caused at heatsink inside. (Patent pending in Japan.)
* Please check the external dimensions in advance to ensure that the product can be installed on your motherboard.
Optimized TIM* for each part
Optimized thickness of thermal pad at each key components and its precise contact with the heatsink generate the maximum performance. Furthermore, thermal grease is coated on the controller that makes the reduction of thermal resistance, and it conducts heat on the controller to the heatsink efficiently.
* TIM = Thermal Interface Materials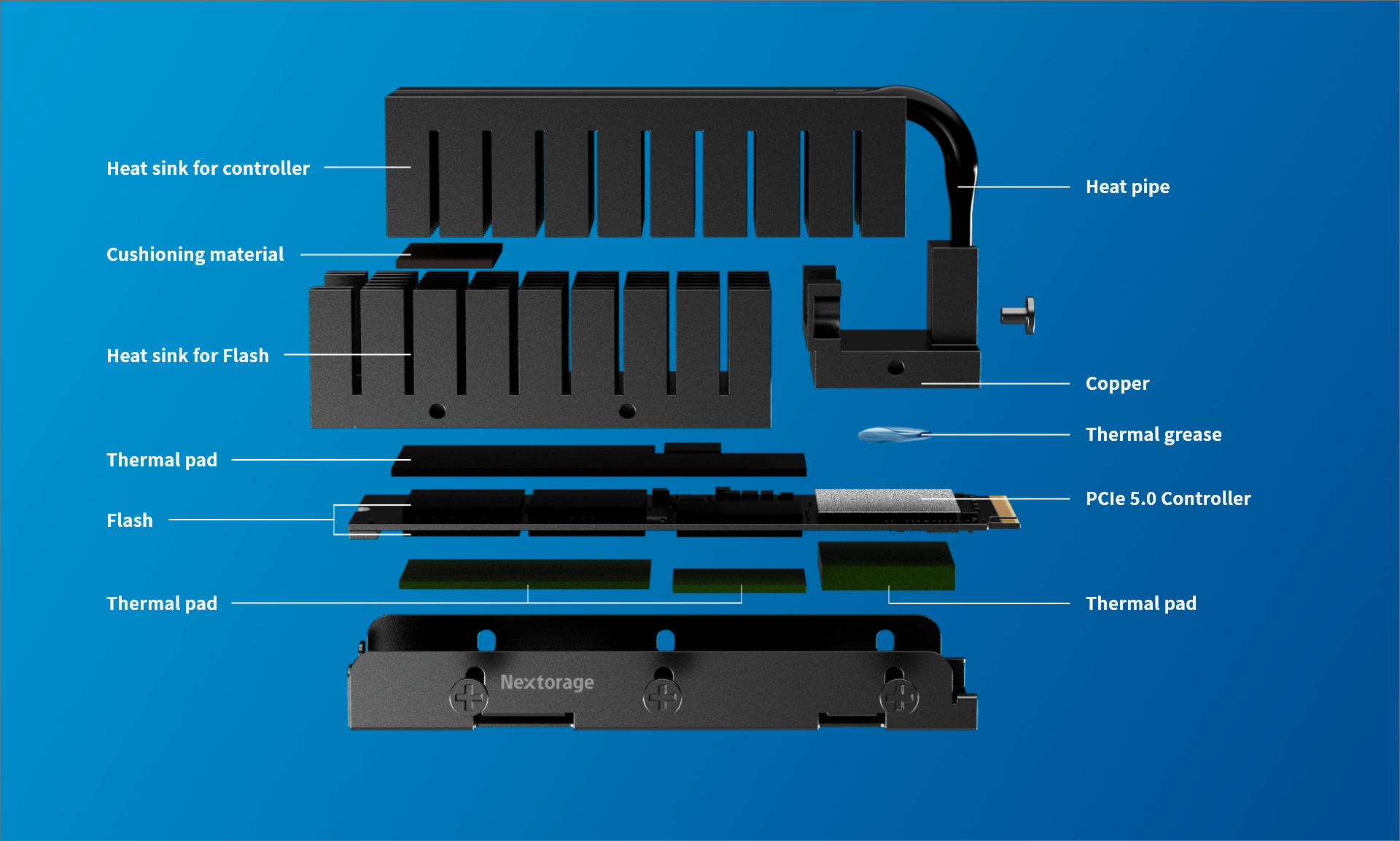 Being fanless makes it silent and power-efficient
Fan-Less heatsink avoids increasing of power consumption and noise caused by fan rotation. Besides, this heatsink structure has high durability due to no working fan and provides stable cooling performance over a long period of time.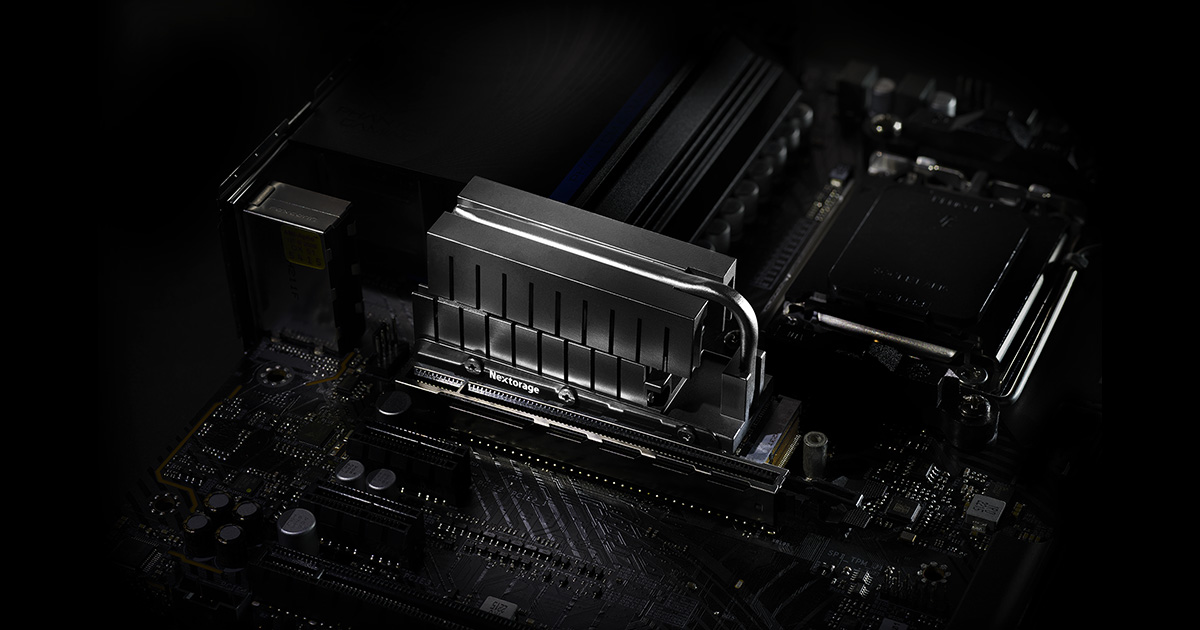 Suggested retail price / Store Information
NE5N1TB: $209.99 (1 TB) / NE5N2TB: $359.99 (2 TB)
Specifications
Name
NE5N Series
Model
NE5N1TB/FHHE SYM
NE5N2TB/FHHE SYM
Capacity [4]
1,000 GB
2,000 GB
Interface
PCIe 5.0 × 4、NVMe 2.0
NAND Flash
3D TLC
Form factor
M.2 2280-D2-M (Double-sided)
Max. Sequential speed (Read) [1]
9,500 MB/s
10,000 MB/s
Max. Sequential speed (Write) [1]
8,500 MB/s
10,000 MB/s
Max.Random access speed (Read) [1]
1,300,000 IOPS
1,400,000 IOPS
Max.Random access speed (Write) [1]
1,400,000 IOPS
DRAM cache memory
2GB DDR4 SDRAM
4GB DDR4 SDRAM
TBW (Total Byte Written) [2]
700 TB
1,400 TB
MTBF (Mean Time Between Failures) [3]
1,600,000 hours
Max power consumption (READ/WRITE) [1]
10 W / 10 W
10.5 W / 11 W
Operating temperature [5]
0 ℃ to 70 ℃ (32 ℉ to 158 ℉)
Storage temperature
– 40 ℃ to 85 ℃ (-40 ℉ to 185 ℉)
(Non-condensing)
Dimensions(W x H x L)
Approx. 24.8 x 38.7 x 80.5 mm (1 x 1 9/16 x 3 1/4 in.)
Support
SLC Caching, Advanced Wear Leveling, Bad Block Management, Thermal throttling, TRIM, S.M.A.R.T, Over-Provision, ECC, End to end data path protection, Sanitize
Included items
・Serial code for downloading Acronis® True Image OEM
* A screw for mounting to equipment is not included.
Software
Acronis True Image OEM
Warranty
5 years
Learn more about m.2 SSD:
---
脚注:
[1] The maximum performances in the text represent the performance of NE1N2TB. Performance and power consumption may differ depending on the measurement conditions. Since the measured value also depends on factors other than the items described above, the indicated performance are not guaranteed. The measured value is based on the following conditions:
< Sequential transfer speed >
CPU : AMD Ryzen 9 3950X 16-Core Processor
Motherboard : MSI MEG X570 ACE OS : Windows 10 Professional 64bit
Measurement software : ATTO Disk Benchmark Ver.3, Total Length = 1 GB
< IOPS >
CPU : AMD Ryzen 7 5800X 8-Core Processor Motherboard : Gigabyte X570 AORUS MASTER
OS : Windows 10 Professional 64bit Measurement software : IOMeter, 1GB range, 4K data size, QD=128, 16 worker, 4k aligned
[2] TBW is calculated based on JEDEC 218/219 workload.
[3] MTBF is calculated based on simulation software (Relex7.3). High capacity drives are expected to have low MTBF and the minimum MTBF applies to all capacities.
[4] Capacity is based on 1 GB = 1 billion bytes. A portion of the memory is used for system files and may vary.
[5] Specified by the Flash temperature (not the environmental temperature.) Maximum performance is not guaranteed over the entire operating temperature range.
Design and Specifications are subject to change without notice.
PCIe and PCI Express are trademarks of PCI-SIG.
NVMe is a trademark of NVM Express, Inc.
Acronis True Image is a trademark of Acronis International GmbH in the United States and other countries.
Other system names and product names are generally registered trademarks or trademarks of each manufacturer.
---
To request media materials or inquire about this press release, contact us