Kanagawa, Japan, April 6, 2023 ― Nextorage Corporation announces new memory card SDXC UHS-II NX-F2PRO Series/NX-F2SE Series release from April 6, 2023. NX-F2PRO256G and NX-F2SE512G are scheduled to be released in end of May.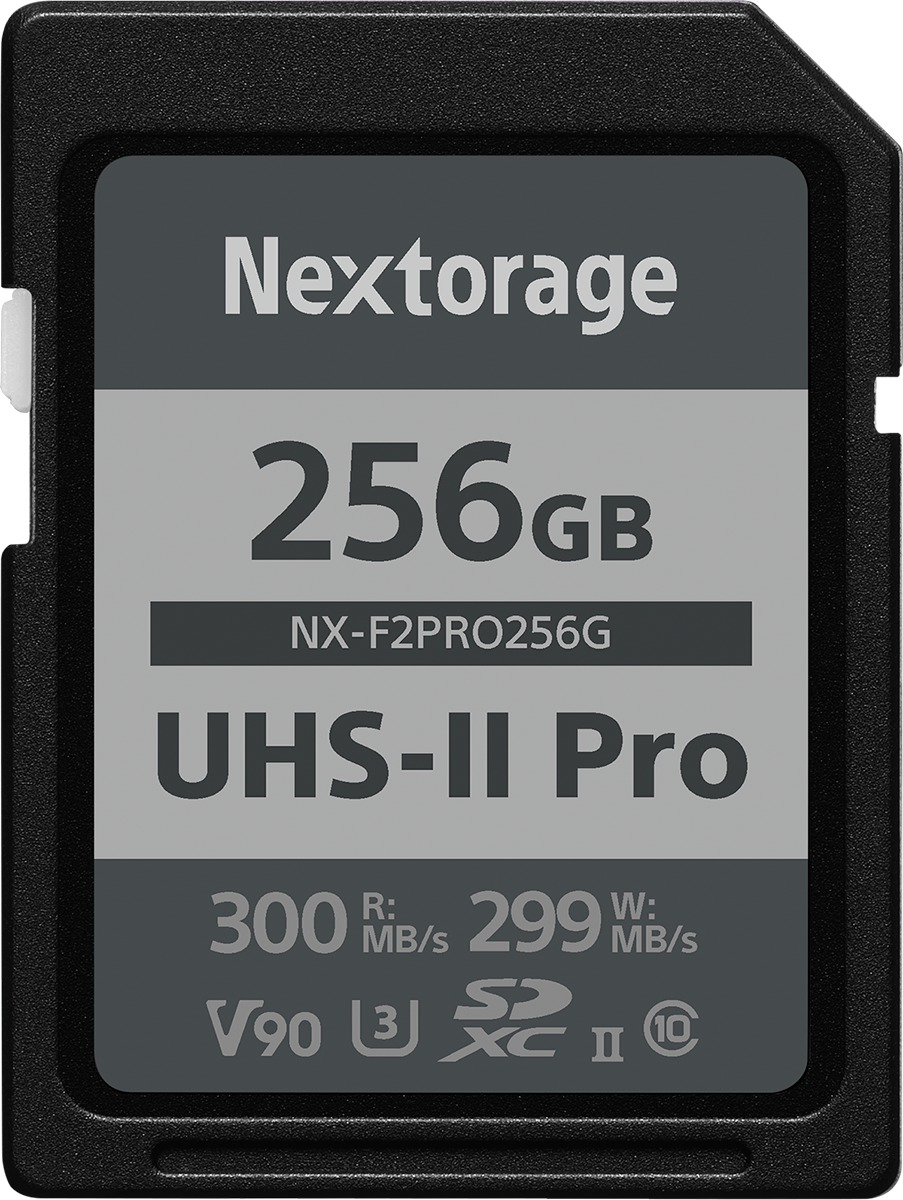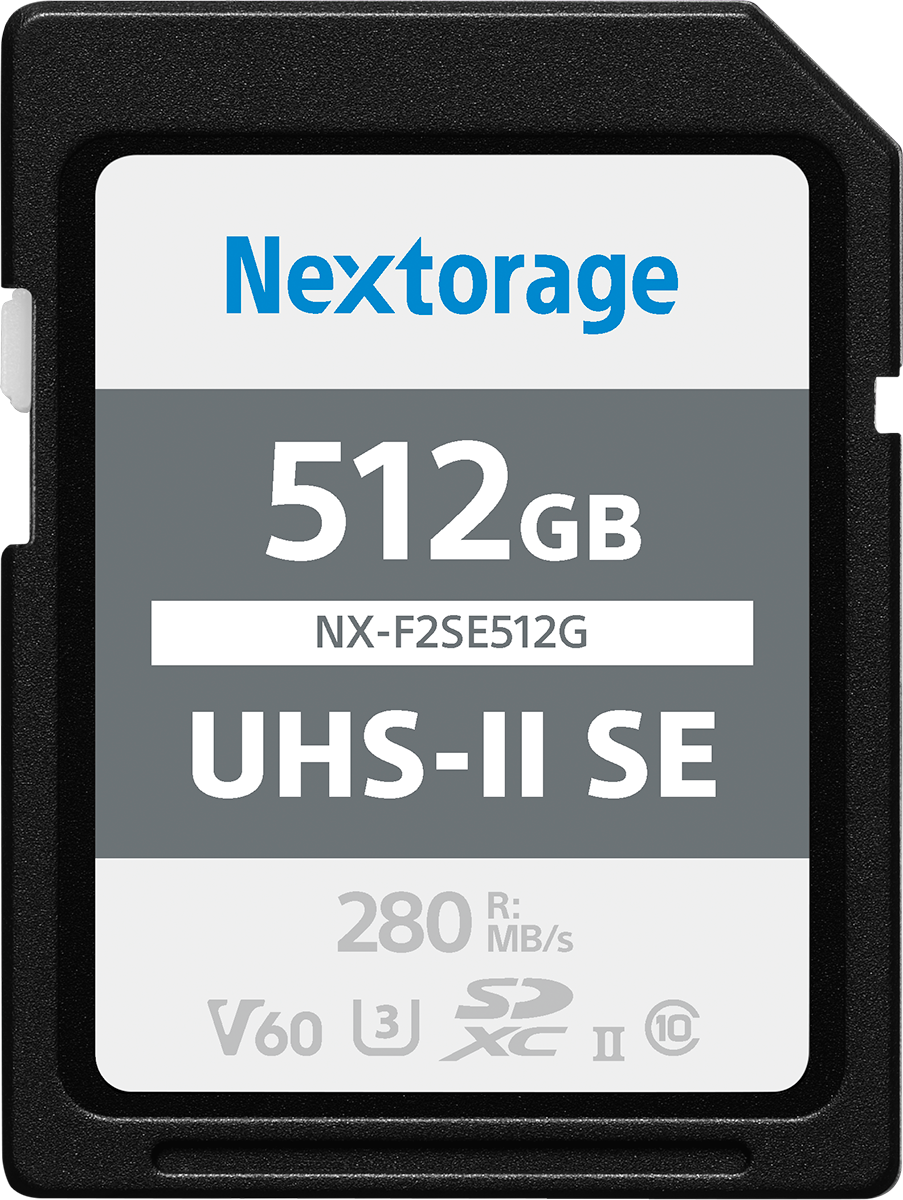 Descriptions
"NX-F2PRO Series", the highest performing SD Cards in Nextorage's SD lineup
The NX-F2PRO Series makes high-speed read/write possible with pSLC NAND memory implementation. The maximum transfer speeds (Read: 300 MB/s, Write: 299 MB/s[1]) nearly reach the highest UHS-II standard. With video speed class V90 compatibility, we're able to accomplish stability in performance while shooting 8K videos and high-speed continuous shooting. Data import is swift and easy with our NX-F2PRO Series, and the lineup comes with 64 GB / 128 GB / 256 GB[3].
"NX-F2SE Series" includes 512 GB large capacity model
The NX-F2SE Series reaches the UHS-II standard, enabling satisfactory performance with 4K video recording, high-speed continuous shooting, efficient data import, and much more. It is compatible with video speed class V60, the minimum guaranteed speed of 60 MB/s and allows us to shoot from the 4K equivalent of high-definition videos to burst mode photos without hassles. The lineup comes with 128 GB / 256 GB / 512 GB[3] and is equipped for shooting that requires large capacity.
Durability[2]
Both the NX-F2PRO Series and NX-F2SE Series have passed 9 types of durability tests and are durable enough to be used with peace of mind and come with a 5-year product warranty.
| | |
| --- | --- |
| Dustproof | IP5X compliant |
| Waterproof | IPX7 compliant |
| Shock resistance(Drop) | Tested from 1.5m height |
| Shock resistance(Twist) | Tested with 10N power |
| Connector mating | Tested 10,000+ cycles |
| X-ray resistance | ISO 7816-1 compliant |
| UV resistance | ISO 7816-1 compliant |
| Anti-Static | certified to IEC 61000-4-2 standard |
| Magnetic resistance | based on Nextorage internal testing |
Product Compatibility
Nextorage is currently verifying the compatibility of the NX-F2PRO Series / NX-F2SE Series with SDXC UHS-II SD Memory Card compatible devices. Information on any compatible devices will be updated on the Nextorage website as it becomes available.
Data recovery software "Memory Card File Rescue" (download bonus)
"Memory Card File Rescue," software for recovering accidentally deleted data, is available for download as a special offer for Nextorage memory card product purchasers.
Suggested retail price / Store Information
NX-F2PRO Series ― $59.99 USD (64 GB) / $109.99 USD (128 GB) / $219.99 USD (256 GB)
NX-F2SE Series ― $39.99 USD (128 GB) / $69.99 USD (256 GB) / $149.99 USD (512 GB)
Specifications
Name
NX-F2PRO
NX-F2SE
Model
NX-F2PRO64G
NX-F2PRO128G
NX-F2PRO256G
NX-F2SE128G
NX-F2SE256G
NX-F2SE512G
Capacity[3]
64 GB
128 GB
256 GB
128 GB
256 GB
512 GB
Interface
SDXC UHS-II
NAND Flash
pSLC
3D TLC
Max. Read speed[1]
300 MB/s
280 MB/s
Max. Write speed[1]
299 MB/s
100 MB/s
170 MB/s
Speed Class
V90 CL10 U3
V60 CL10 U3
Dimension (W x H x L)
24 x 32 x 2.1 mm (31/32 x 1 9/32 x 3/32 in.)
Mass
Approx. 2 g
Operating voltage
2.7 V ~ 3.6 V
Operating Temperature
-25 ℃ to 85 ℃ (-13 ℉ to 185 ℉) (no condensation)
Software
Memory Card File Rescue
Warranty
5 years
Learn more about SDXC UHS-II memory card:
---
Notes:
[1] Based on Nextorage test conditions. Actual performance may vary and are dependent on environmental and usage.
[2] Durability is the result of testing under Nextorage's test conditions. Product damage and data corruption are not guaranteed in all circumstances.
[3] Capacity is based on 1 GB = 1 billion bytes. A portion of the memory is used for system files and may vary.
Design and specifications are subject to change without any notice.
SDXC logos are trademarks of SD-3C, LLC.
---
To request media materials or inquire about this press release, contact us